Maike Deikmann took her first strokes as a novice rower with the USKAR Rowing Club in 2014. Now she is one of the top athletes in the sport. She is currently representing the Namibian National Rowing Squad and won a bronze medal at the Memorial Paolo d'Aloja International Regatta in Italy. She is gunning to qualify for the Tokyo 2020 Olympics as the first Namibian rower to ever attend the games. But she no longer rows for USKAR.
She is one of many talented rowers who have left USKAR in order to row for the University of Pretoria (Tuks). There has been a trend in the last few years of talented athletes starting out at USKAR and then moving on to row and study at Tuks instead.
USKAR's rowing club has a novice program that has helped discover and develop a lot of talent throughout the years. But why have these rowers chosen to leave USKAR to pursue higher achievements in rowing with the help of the University of Pretoria instead of staying on to row for USKAR?
"[USKAR] has one of the strongest novice programs in the country amongst the different universities," said Deikmann. "They have the biggest number of novices every year, and develop these athletes to compete eventually in the top categories."
No permanent rowing coach 
Despite USKAR's ability to help athletes achieve top results at the beginning of their rowing careers, an essential need for all rowers hoping to move onto the international stage is lacking; a coach.
"The only time USKAR puts an emphasis on coaching and strict training is during boat race season," Caitlin Little, a first-year student at USKAR who is planning to transfer to Tuks next year. "The lack of consistent coaching year round has been a concern to me as I do not believe that I can perform at my greatest ability, nor can the team, by trying to cram technique into the last half of the season," she added.
Little is very confident about her move. "Not having a permanent coach, I personally believe can only get me to a certain point before a professional direction is required to get me to where I want to be," Little said. " I feel that USKAR wouldn't be able to help me achieve my goals without a permanent coach."
"[USKAR] is a student-run club, which makes it even harder to compete with universities that have a leading role filled by someone from the university to oversee admin and coaching. In the past [USKAR] Rowing Club has been struggling as they didn't have a full-time coach," said Deikmann.
Without a full-time coach, USKAR resorts to receiving assistance from the Saint Andrews Rowing Coaches during the Boat Race season. Boat Race, however, is a race with 8 other athletes in a crew which means that individual rowers aren't being coached for the 2000 meter sprint that would help them qualify for the national trials.
Little has been rowing since she was in school and qualified for the South African Schools Rowing Union (SASRU) team in her single scull in 2015. She competed on an international level and the structure of the training programme made it possible.
"I had an abundance of coaching and attention at this time, furthering my concern for the lack of it in the RURC," Little explained. "My decision to move to Tuks stems from my desire to achieve at the highest level in Rowing, and the proof is in performance."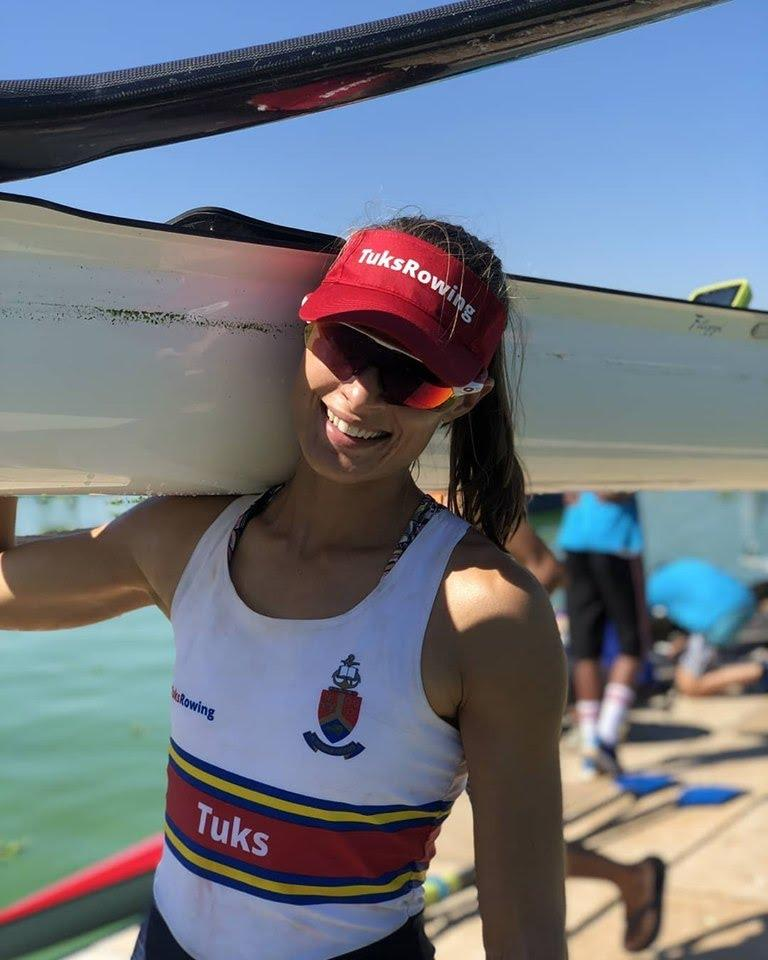 Maike Deikmann rowing for Tuks (2019).
USKAR has not been seeking a full-time coach. This is why athletes like Little and Deikmann will not stay at USKAR. "The rowing club coach is appointed on a yearly basis and the contract runs annually from January to September," said Emlyn Gallant, the Assistant Manager for USKAR Sports Administration.
 "Tuks has a full-time employed coach that is paid by the University; he looks after the whole club. His job is to coach the woman and men's crews and be at each session," said Deikmann.
She credits her success to these facilities."The reason why I am achieving what I have so far here at Tuks is thanks to a great coach, top class training facilities and a competitive environment to train in," she noted.
Although a coach is needed here at the USKAR Rowing Club, the management of the club by busy students committed to the sport, as well as the dedication of athletes who are members, is key to the success of what is still a thriving club.
The former USKAR rower sees a lot of potential for growth at her formal club. "I just would like to say to the USKAR Rowing Club athletes, to keep putting the hours of training in, that kind of dedication will eventually pay off. Nothing comes easy in sport, especially in a sport like rowing," said Deikmann.  "As long as there are enough people interested in this fascinating sport and the amazing things that it will teach you along the way, then USKAR Rowing Club will be fine and carry the legacy on to many more generations."
Deikmann encourages athletes to take some time to enjoy themselves. "'Train hard, party hard' has always been a big motto that the older rowers used to tell me when I was a novice at USKAR," she said. "At the end of the day, we still want to have fun and not take ourselves too seriously and that's what I really liked about the rowing at USKAR ."
Although the USKAR rowing club is always sad to see some of their top athletes move on, they are pleased to have helped discover and develop top athletes such as Deikmann. "We are proud of the athletes who started their rowing careers at USKAR and are now rowing internationally," said Gallant. "Rowing is considered one of the elite sports at USKAR University. USKAR Sport is committed to ensuring that the club is adequately resourced to achieve its objectives."
All photos courtesy of Maike Deikmann.